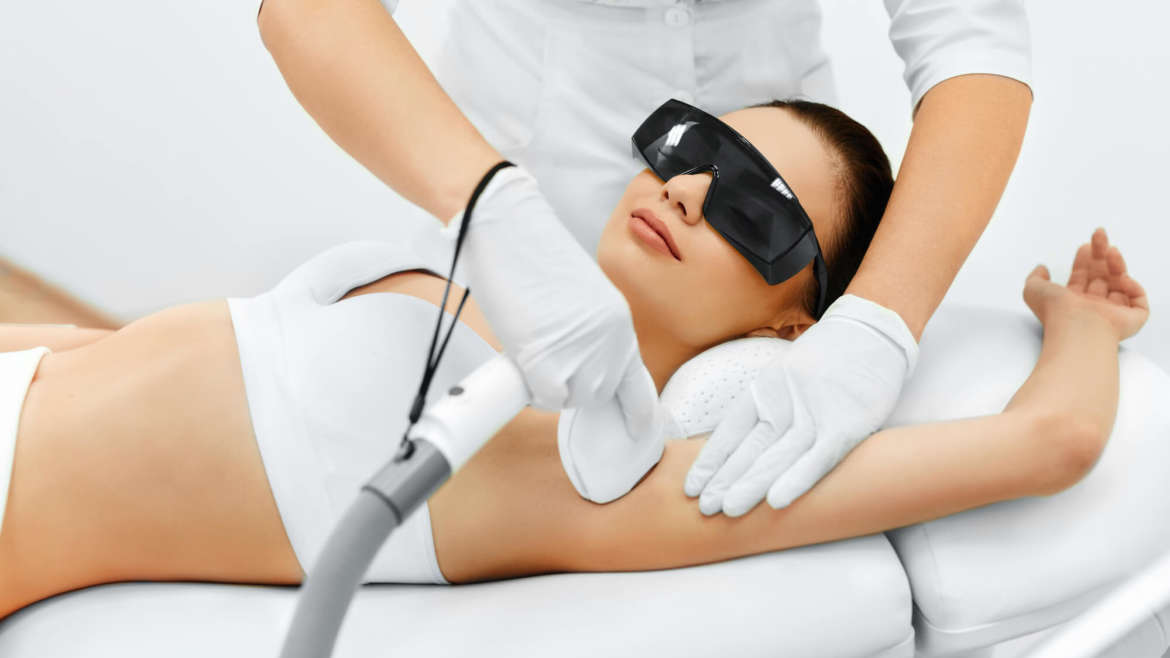 The worlds fastest, and most powerful Laser Hair Removal 250-416-0418
Primelase HR
Urban Legends is proud to introduce Primelase HR Excellence – world's fastest and most powerful (4800 W) hair removal device for permanent hair reduction in only a few treatment sessions. Endorsed by dermatologists and aestheticians all around the world, it is effective and safe for all types of hair and skin phototypes.
The Technology
Primelase HR Excellence is the first and only device to have combined 4 different wavelengths in one system i.e 755nm (Alexandrite), 810nm (Diode), 940nm and 1060nm (YAG) to effectively target different areas of the hair follicle and to provide results which are far more superior than other devices in the market.
Primlase HR Excellence has the biggest spot size in the industry i.e 30 by 17 mm and hence, is the World's fastest hair removal device. You can now have a full body hair removal in only 30 minutes.
what are the benefits of primelase hr laser hair removal?
Permanent hair removal is achieved in a short time. It also helps to remove cystic hair and improves problems with folliculitis, carbuncles, hypertrichosis and hidradenitis. The treatment is faster and safer than other types of laser hair removal. All skin types can be treated with this laser at any time of year.
how many sessions are required?
LASER hair removal requires multiple treatment sessions as we can only remove hair in the growth phase known as anagen. The number of sessions depends on the area to be treated, the thickness and color of the hair, skin type and the specific needs of each patient.
is hair removal permanent with the primelase hr?
primelase HR equipment eliminates progressively active follicles permanently (hair in anagen growth phase) through successive sessions. At certain times there are several factors that can activate currently inactive follicles (destruction not possible). Hormone changes, for example, can be found amongst these factors.
is it painful?
It is practically painless, although some patients may feel mild discomfort and heat, inherent to the LASER, or cold from the device's cooled tip.
how long does the treatment take?
The duration depends on the size of the area to be treated. An appointment for the upper lip may take up to 5 minutes, 15 minutes for underarms and bikini and legs around 30 minutes although the actual treatment time is much less. A full body treatment if done together can take 30 minutes.
home care advice – before and during treatments
The patient should avoid sunbathing, using self-tanning lotions and discolouring the hair days prior to treatment to avoid discolouring of the skin. From the moment treatment starts, avoid the use of tweezers, waxing, electrolysis or any other type of hair removal systems which remove hair by the root.
*Call to book a consultation today! 250-416-0418
Pixel Perfect™
PIXEL PERFECT
Now there's a brand new way to reverse the signs of aging and ensure your own radiant skin continues to shine through. It's called Pixel Perfect, and it can dramatically revitalize your skin.
Your Clinical Esthetician offers
Pixel Perfect, and has provided this brochure for you to answer some common questions and let you know what might be possible.
REVERSE THE EARLY SIGNS OF AGING
Pixel Perfect is an aesthetic laser treatment that lifts away years from your face. It can help reverse the early signs of aging, and helps counteract years of sun damage or acne scarring. It provides noticeable results, often in as little as a single treatment.
PROVEN EFFECTIVENESS
If you've considered traditional (ablative) laser
skin resurfacing, dermabrasions or deep chemical peels - but were put off by the extended recovery time or anesthesia required - Pixel Perfect offers a great balance. It can provide the dramatic results of these procedures, but with fewer risks. Plus, it reduces necessary healing time from up to thirty days to usually three days or less, depending on your starting condition and the type of Pixel technology your Clinical Esthetician uses.
THE SCIENCE BEHIND PIXEL PERFECT
Pixel Perfect the aesthetic procedure performed exclusively by Pixel® technology from Alma Lasers, stimulates new collagen growth to improve your skin's texture and tone and fight fine lines and wrinkles.
Pixel Perfect works by creating thousands of microscopic perforations, but the skin around each of these perforations remains intact. This allows your skin's top layer to heal from the edge of these tiny holes very rapidly.
Not only is healing time shortened considerably,
but Pixel Perfect also comes with a lower risk of complications, as compared to traditional laser
skin resurfacing.
DRAMATICALLY REVITALIZED RESULTS
You'll see dramatic improvement in the tone and texture of your skin. Many clients choose Pixel Perfect because it:
• Clears sun-damaged skin
• Smoothes fine lines and wrinkles
• Shrinks the appearance of pores
• Fills in acne scars
• Blends uneven pigmentation
SAFE AND COMFORTABLE
Pixel Perfect treatments are safe and effective, without injections or surgery. You can expect your skin to be flushed and red after the treatment - something similar to a sunburn. Your Clinical Esthetician may also recommend an over-the-counter pain medicine to make you more comfortable. These symptoms are a normal part of the healing process and should improve quickly.
Dermatude Meta Therapy combines the benefits of several skin rejuvenation methods in one -100% natural! - Unique technique for:
√ Anti-ageing.
√ Rejuvenation.
√ Hydration.
√ Restoration.
Meta Therapy is the only 100% natural skin improvement method with twofold effect. Meta Therapy combines both aspects: natural skin improvement from the inside out and externally applied active ingredients by means of special serums. A dual effect in the battle against skin aging is tackling not just the consequences, but above all the cause of skin ageing.
Results?
The skin ageing process can be slowed down considerably and the signs of ageing can even be visibly reduced.
Meta Therapy is a treatment that can be carried out by professional beauty specialists only.
*Prices starting from:
Face and Neck $250/treatment
Line Treatment $175/treatment
Package of 6 available for the cost of 5
HydraFacial MD TM – Skin Health for Life TM
The HydraFacial resurfacing procedure thoroughly cares for your skin, providing cleansing, exfoliation, extraction and hydration all while Vortex-infusing antioxidants, peptides, and Hyaluronic acid. Ranked above IPL, the HydraFacial is a non-invasive, non-surgical procedure that delivers instant results with no discomfort or downtime. The procedure is soothing, moisturizing, non-irritating and immediately effective.
The HydraFacial serums specifically target your skin issues including sun damage, black heads and whiteheads, enlarged pores, acne, brown spots, uneven skin tone, and early aging fine lines and wrinkles. The best part- it's not just a quick-fix-it procedure. The HydraFacial improves the quality of your skin, actually helping to make it healthy.
PRICING STARTS AT $150
Call us for current specials or upcoming promotions
NEW – PERK HYDRAFACIAL MD.
WHAT IS PERK™?
Perk™ is the all-in-one Cleanse with Benefits™, merging an in-office exfoliation service with an advanced daily application of take-home products. We believe that by combining cutting-edge technology with proven ingredients, we create powerful synergies, providing real results for everyone's skincare needs.
Lip service with take home treatment $70
Eye service with take home treatment $70
Photo rejuvenation procedures use light energy to produce younger and healthier looking skin. Based on studies performed at Skin Laser & Surgery Specialists of New York and New Jersey, and published in peer-reviewed journals, we know that Photo rejuvenation treatments can create new collagen in the skin.
Who Benefits From Photo rejuvenation?
As most of us age we begin to see small but visible signs of sun damage appearing in our complexion. This may include freckles, broken capillaries, dark spots, a blotchy skin color and redness of the face and neck.
Photo rejuvenation treatments can be used to treat vascular redness, pigmented brown spots, sun damage, and collagen structure all at once. Treatments require less than 30 minutes.
With the use of this exciting new technology, dramatic improvements can now be accomplished with little or no "downtime" and with very minimal discomfort.
Photo rejuvenation can be used in an anti-aging program in people as young as 20 years old.
Photo rejuvenation can result in:
50-75% improvement in pink (vascular) or brown (melanin) discolorations.
50-75% improvement in fine to moderate wrinkles, acne scarring, skin texture irregularities, and laxity.
Photo rejuvenation candidates:
Photo rejuvenation treatments work best on patients who suffer from rosacea and experience flushing and redness of their skin, and for patients with premature sun-damage. Photo rejuvenation is an ideal treatment for active patients who don't want to take time off for healing from more aggressive therapies.
Photo rejuvenation advantages:
Chemical peels, laser resurfacing and micro-dermabrasion are not effective in reducing redness, flushing or treating dilated capillaries. Photo rejuvenation is the first new treatment for flushing and redness, with no discomfort, and no downtime or disruptions from normal activities.
These light based treatments heat up the dermal layer of the skin causing the fibroblasts to produce collagen. The increased production of collagen results in smoother tighter skin as well as a decrease in hyper pigmentation and redness to rejuvenation treatments works best on patients who suffer from rosacea and experience flushing and redness of their skin, and for patients with premature sun-damage.
Photo rejuvenation is an ideal treatment for active patients who don't want to take time off for healing from more aggressive therapies.
IPL Photo rejuvenation – Prices starting from*:
Photo facial $295
Photo Facial for Redness and Rosacea $295
Package of 3 Treatments $750 (Pkg. purchased before first treatment and used in a series for optimal results)
*Consultation required.
Permanent Removal of Skin Growths (SuperFrecator: High Frequency Cauterizing)
What are skin growths?
Skin growths are accumulations of various types of cells that look different from the normal surrounding skin. They may be raised or flat and range in color from dark brown or black to flesh-colored or red. They may be present at birth or develop later as we age.
Our SuperFrecator 6800 removes:
Age Spots
Sun Spots
Skin Tags
Cherry Angiomas
Fibromas
Keratosis
Cholesterol Deposits
Calcium Bumps
What is SuperFrecator?
The SuperFrecator is a cauterization machine that has been successfully used for over 30 years by skin care professionals to remove all types of common surface skin growths.
How does the SuperFrecator work?
The machine uses a high-frequency electrical current that delivers a precise spark through a micro-needle to cauterize and desiccate skin growths. During the procedure the micro-needle remains above the skin surface; it does not penetrate the skin. As the growth is removed, a natural protective coating or scab develops that covers the treated area. With in the next few days, the scab will fall off and be replaced by healthy new skin cells, the color of the surrounding skin tissue. In most cases, there is no visible indication of the previous growth.
How does it differ from liquid nitrogen?
The SuperFrecator 6800 Series is generally more effective than liquid nitrogen in removing skin growths. Frequently, more than one application of liquid nitrogen is needed to remove a growth, whereas only one SuperFrecator treatment is ever necessary.
Is the treatment permanent?
Yes, once a skin growth has been treated with the SuperFrecator, it does not return. However, if your skin is prone to these types of grows, new ones may appear elsewhere on your face and body.
A consultation will determine price.
HYDRAFACIAL MD TM – Check our spa services menu for full description.
Check Out Our Other Services